Photographica Pages
An online guide to collectable cameras and related stuff
---
Leica MDa

Leica MDa with body cap.

The MD was replaced by the MDa. Features remained basically the same, the MDa was based on the M4 frame, with its slant mounted rewind with folding crank. As with the MD, Post versions were manufactured for Post Office meter recording of telephone meters, available in 24x36 and 24x27 image sizes.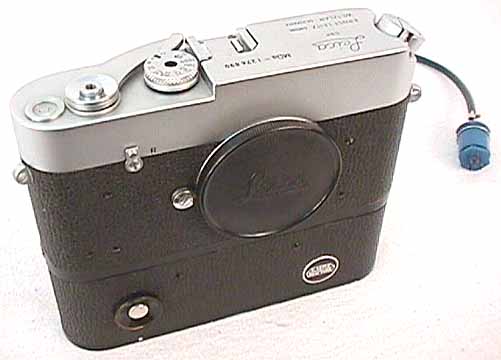 The MDa MOT, unmarked version, with motor.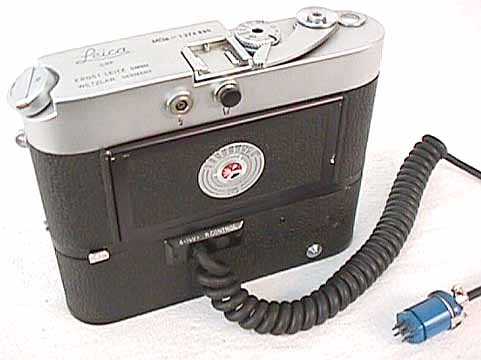 Rear view, showing plug hardwired into back of the motor.
A batch of MDa cameras were designed for use with electric motor drives for use on Zeiss fundus cameras, used for photographing the eye. Some, but not all were engraved MDaMOT.
Production figures by year and image size (Post):
| | | | | |
| --- | --- | --- | --- | --- |
| Year | MDA | Post 24x36 | Post 24x27 | Motor |
| 1966 | 1800 | -0- | -0- | -0- |
| 1967 | -0- | 75 | -0- | -0- |
| 1968 | 1736 | -0- | 10 | -0- |
| 1969 | 1200 | 50 | 20 | -0- |
| 1970 | 1350 | -0- | -0- | -0- |
| 1971 | 2100 | 75 | 4 | -0- |
| 1972 | 672 | -0- | 183 | 200 |
| 1973 | 1500 | -0- | -0- | -0- |
| 1974 | 1000 | -0- | -0- | -0- |
| 1975 | 400 | -0- | -0- | -0- |
| 1976 | 2550 | -0- | -0- | -0- |
| Total | 14308 | 200 | 217 | 200 |