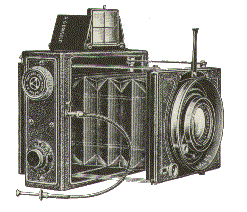 Pacific Rim Camera
---
Pages updated June 22, 2022.
Welcome to the Pacific Rim Camera home page. We are dealers in vintage and film cameras. And the world mostly seems to be moving in a direction where all film cameras are vintage cameras. And some digital cameras are becoming collectible. Our website has been experiencing urban sprawl. Like many major metropolitan areas, it's growing in every direction, with no end in sight. But unlike those cities, this growth is not bringing with it crime, traffic congestion and additional sports franchises. It does bring you a reference section on collectable cameras, Photographica Pages (which is under perpetual construction), with photos of cameras, lenses, accessories and even original boxes! We also have a links section, with links to stories and articles posted by us (although many aren't written by us) and even links to other camera related sites. And of course, the catalog. I've made the catalog without images, so that it will load quickly, and should be accessable to the most people, with links to photos of almost every one of our multitude of thousands of items. Almost everything else has some graphics, and almost every area is constantly being made new and improved. Check back from time to time. Our reputation is one of our greatest assets. We would appreciate your feedback at
Google Reviews of Pacific Rim Camera
. If you like our service, I hope you'll take a moment to share that with others here. If you don't, I certainly hope you'll let us know, and if we don't make it right, then you'll post that as well.