Photographica Pages
An online guide to collectable cameras and related stuff
---
Zeiss Ikon Piccolette

Contessa-Nettel introduced the Piccolette in 1919, and it was carried over into the Zeiss catalog after the merger. It was a popular style of camera, styled very much like Eastman's Vest Pocket Kodak. The camera is strut folding, and makes 4.5 x 6cm images on 127 film. It was marketed under the catalog number 545/12, and was available in Germany until 1930 and the USA until 1932. It was offered with either a 75/4.5 Tessar, which is rare, a 6.3 Novar or an f/11 Achromat.
A luxus version of the camera was offered during the same years, with drop bed styling, and brown leather covering with matching brown bellows. It was available with the Tessar or a Dominar in a dial set Compur shutter. The catalog number was 546/12.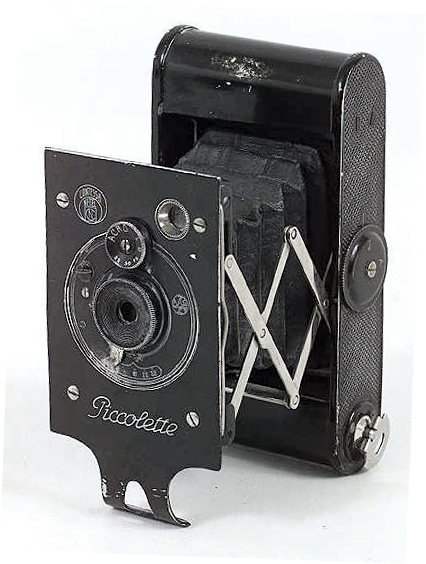 A Contessa Nettel Piccolette.