Photographica Pages
An online guide to collectable cameras and related stuff
---
Goerz Minicord and Mincord III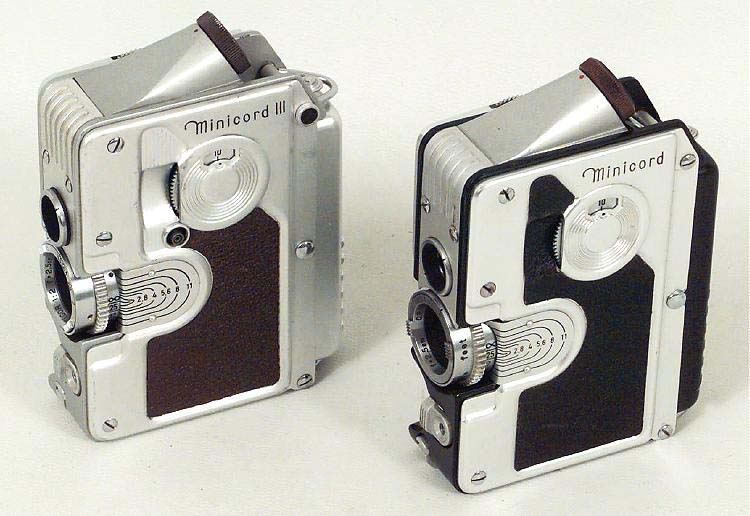 Goerz introduced the Minicord around 1951. It is one of the highest quality subminiatures ever built. The nature of subminiature cameras requires extensive enlargement to create decent size prints for viewing. Because enlarging magnifies the flaws in a photo, it is more important on a smaller camera to maintain absolute sharpness of image, flatness of film and accuracy in focus.
Goerz opted to build their camera a little larger than most of the competition. It is about the size of a pack of cigarettes, and is a twin lens reflex. This made the camera easier to handle, and the focusing is very exact. The viewing screen is a bit larger than the 10x10mm image size. It accepts regular 16mm film loaded into special cassettes. The lens is a Goerz Helgor 25/2, and the shutter is a metal plane, with speeds 10-400.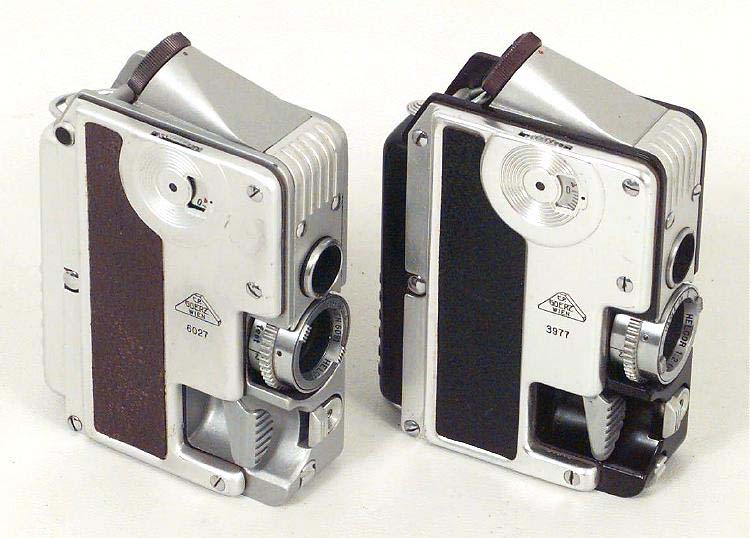 Around 1958 the Minicord was replaced by the Minicord III. Functionally, the only difference I can find is that the Minicord III has flash synch, while at least some of the original models do not. I have seen photos of the original models with flash synch, but do not know if this was original or a late factory upgrade. The Minicord III differs from the original model cosmetically by using brown leather to replace the black from the original model. Also, part of the central body casting was in black bakelight on the original is now silver metal.
In addition to the normal finish, a few Minicords were gold plated with red or green leather. These are very uncommon.
Goerz also marketed an enlarger for use only with the Minicord. It actually attaches to the back of the camera in place of the regular film back, and uses the cameras fine lens and shutter for making enlargements. In keeping with the spirit of the camera, it disassembles and stores in a compact wooden box, which doubles as a base for the enlarger.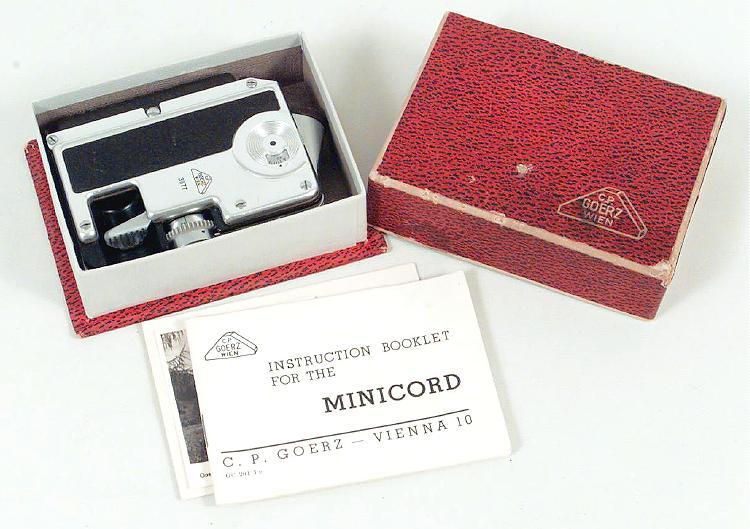 The Minicord, with box instructions and book of tips.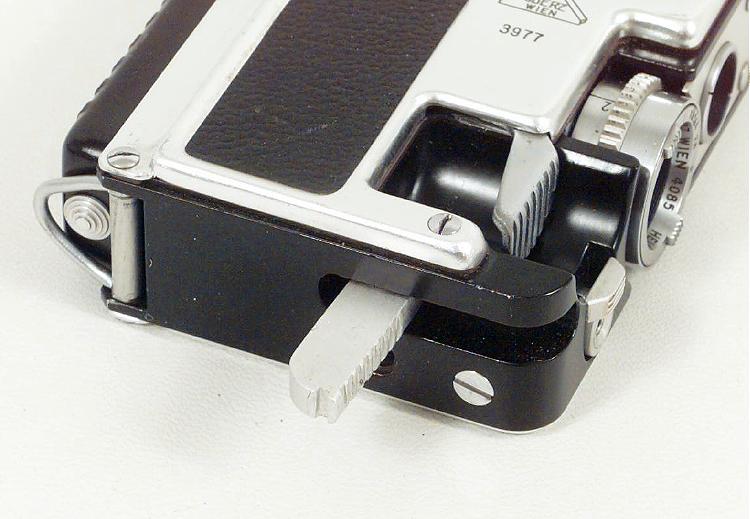 A close-up of the folding grip on the bottom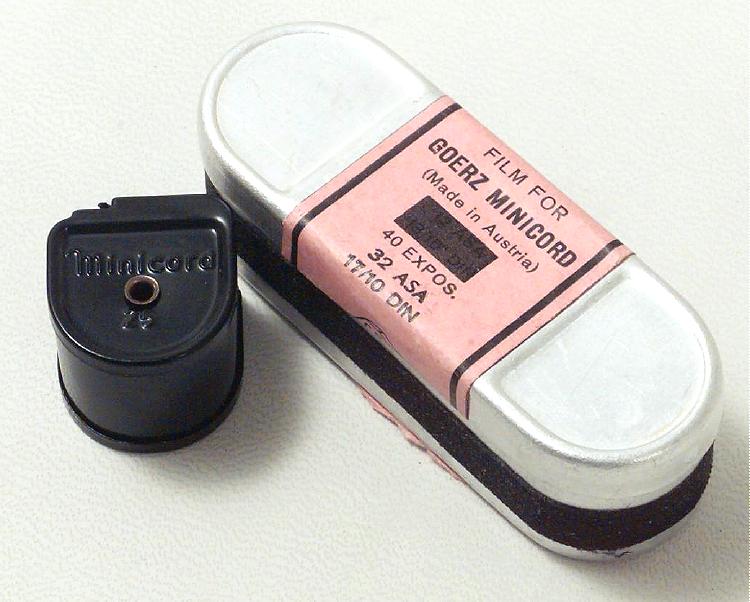 A Minicord cassette and film can.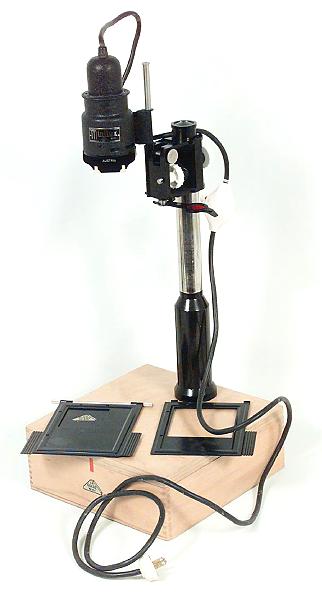 The Minilux enlarger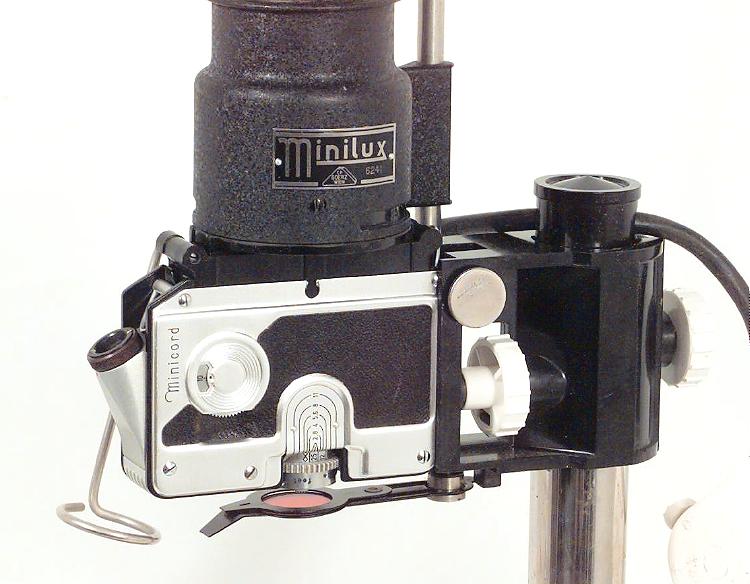 A close-up of the enlarger with the camera attached.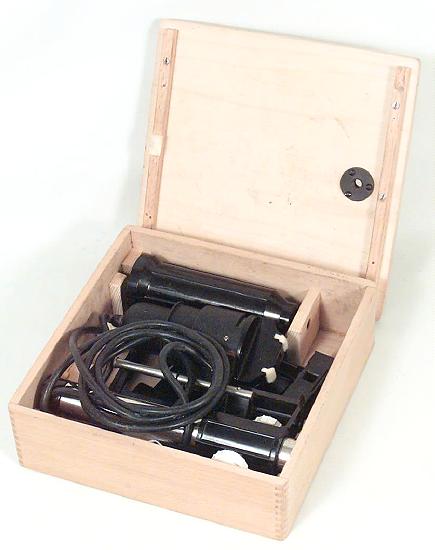 The enlarger disassembled and stowed in the baseplate/box.