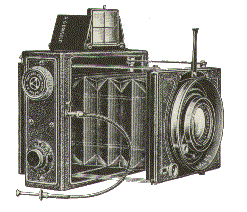 Pacific Rim Camera
WE BUY CAMERAS
---
Below you'll find a list of cameras and manufactures that will link you to more information. If you don't see your camera listed, it doesn't mean it's worthless, nor does it mean that it's rare and valuable. It also doesn't mean we are, or are not interested. The best price guide on the market lists over 9000 different cameras. I have had hundreds of cameras not listed in that book. There have been so many different makes and models of cameras produced, and in so many variations, that we couldn't begin to cover them all here. If you have a camera you think we might be interested in buying, please E-mail us, and we'll let you know. It doesn't cost anything, and you never know. You might be holding something worth lots of money to us...

I've avoided listing specific dollar values because things vary so much with condition, slight manufacturing variations (such as different lenses and shutters) and, well, mostly because prices rise and fall constantly, and I don't think I could keep all of these prices updated and acurate all of the time. I've assigned price ranges to give you some ballpark idea of value.
$ = under $50
$$ = $50-200
$$$ = $200-500
$$$$ = $500-1000
$$$$$ = over $1000
These are to be used as guidelines only. For a real price, please contact us with complete information.
Some areas are not yet complete. Please be patient. Areas marked "no link" haven't been written, and the link leads nowhere.