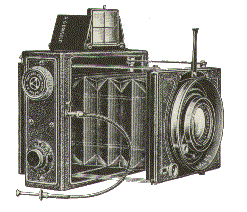 Pacific Rim Camera
---
Pages updated Sep 2, 2020, this page updates Sep 11.
After over 20 years of Pacific Rim Camera being located in the same building, we finally got our new location ready and have nearly gotten everything moved over the last couple of weeks. I have been working myself ragged trying to get this finished (you may have noticed a slowdown in my scanning).
The new location is just outside of Silverton, Oregon, about 20 miles outside of Salem. I had just about transferred all of the inventory over, solved some rural internet speed issues and looking forward to a slightly slower pace, when Monday night a combination of a long dry summer and freak high winds from the east combined two small wildfires in the Santiam canyon into an inferno that swept down the canyon, destroying some small towns, and has been heading our way.
Silverton went on a Level 2 evacuation notice (pack up and be ready to flee). Tuesday we packed up the things that can't be replaced, and I grabbed some of the historically significant photo items I have, both from my collection, and inventory. We made three trips using our cars, not knowing when we left if we'd be allowed back. Yesterday I made the decision to rent a U-Haul and had friends help fill it with inventory. We got more than half of it (I think), but it is now inaccessible. I've been filling orders with what I can find, but some things may be locked up for a few days. And when I get them back out (assuming the house and building are still standing), they will be a mess. I combined a lot of bins of stuff to fit more in the truck. We are still taking orders, but shipping may be delayed, and many questions cannot be answered. Please be patient. ThanksWe are moving to our new (smaller) location. If you see older and especially larger items, we are happy to work out a deal!
We are still working under Covid-19 safe distancing rules. We are still handling orders, but there may be some delays in handling questions as we are staggering our shifts. Thanks!
Welcome to the Pacific Rim Camera home page. We are dealers in vintage and film cameras. And the world mostly seems to be moving in a direction where all film cameras are vintage cameras. And some digital cameras are becoming collectible. Our website has been experiencing urban sprawl. Like many major metropolitan areas, it's growing in every direction, with no end in sight. But unlike those cities, this growth is not bringing with it crime, traffic congestion and additional sports franchises. It does bring you a reference section on collectable cameras, Photographica Pages (which is under perpetual construction), with photos of cameras, lenses, accessories and even original boxes! We also have a links section, with links to stories and articles posted by us (although many aren't written by us) and even links to other camera related sites. And of course, the catalog. I've made the catalog without images, so that it will load quickly, and should be accessable to the most people, with links to photos of almost every one of our multitude of thousands of items. Almost everything else has some graphics, and almost every area is constantly being made new and improved. Check back from time to time. Our reputation is one of our greatest assets. We are happy to have found a forum for posting feedback on various camera stores. You can judge by other peoples experiences who are the good guys, and who aren't. This forum is
Photo.net Neighbor to Neighbor
. If you like our service, I hope you'll take a moment to share that with others here. If you don't, I certainly hope you'll let us know, and if we don't make it right, then you'll post that as well.